Hardscapes are non-living landscape elements that add definition and structure to natural areas. They include concrete patios, stone walkways, and even retaining walls.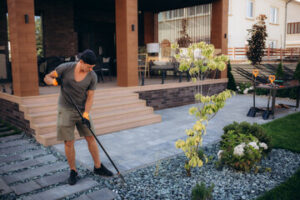 The best way to generate leads for your Hardscaping Services is to target homeowners actively looking for your services online. This can be done through several marketing strategies, like content and social media. Keep reading the article below to Learn More.
Consider attending industry events if you want to get your business known for hardscaping services. You may be able to meet potential clients or partners, and it's a great way to stay on top of the latest trends in hardscape design. In addition, industry events can provide valuable training opportunities and help you network with other professionals in the field.
One of the best ways to promote your hardscaping services is by sharing images and videos of previous projects you've completed. This will show prospects the quality of your work and establish trust and credibility with them. Using relevant hashtags and geotags on social media posts can also increase your visibility to people searching for hardscaping services in their area.
Creating an online blog on your website is another excellent way to generate leads and showcase your expertise in the field. Writing articles on topics such as how to choose the right paver color, maintenance tips for retaining walls, or addressing common concerns like chipped pavers, weeds in walkway joints, and mildew growth on concrete surfaces will make your site a valuable resource for prospective clients.
Lastly, offering exclusive discounts or promotions to new clients is a great way to build trust and loyalty with prospects. Providing lead magnets such as eBooks or guides on landscaping and hardscaping can also establish you as an industry thought leader and improve your search engine ranking over time.
Patios
In many ways, patios are the heart of the home's outdoor living space. They are often the place where family and friends gather to share a meal, have conversation, or simply enjoy the flowers in bloom. If your yard is lacking a comfortable seating area, it's time to turn to hardscape services. Seat walls, fire pits, and custom stone patios are just a few of the options available.
If you're a homeowner looking to add value to your property, hardscapes can drastically increase the amount of usable space in your backyard. According to HomeLight, a few simple hardscaping projects can increase the value of your house by as much as 15%.
When deciding to invest in hardscaping, it's important to hire an experienced company that knows how to handle and properly install the materials you want. Not only does this ensure your project is completed correctly and quickly, but it also protects your health and safety. Lifting heavy pavers, working with sharp metals, and climbing up on structures can be dangerous for inexperienced individuals. Credible hardscaping companies are well-versed in proper installation techniques and use professional equipment to make quick work of any project. The best part is, these experts can do the job without sacrificing quality or design integrity.
Walkways
While most people think of plants when they hear the word landscaping, there are plenty of hardscape options as well. From walkways to patios, these man-made structures make your outdoor spaces more functional and aesthetically pleasing. If you're looking for a way to get more from your landscape, consider hiring a professional to help you with hardscaping services.
Walkways are a type of path that connects different areas of your yard. They are usually constructed of paving stones or concrete and can be used for a variety of purposes. A walkway can lead from the sidewalk to your front door or through the backyard to other features such as a pool or fire pit.
A walkway can be an attractive feature in your yard, especially if you choose to use earth-tone colors. This helps the walkway blend with the surrounding natural elements and creates a cohesive look. In addition to aesthetics, a walkway can also add value to your home by making it easier to move around the yard.
A professional hardscaping company can design a custom walkway to fit your needs. They will take into account the size, location and function of your yard to ensure that the walkway is perfect for you. They can also install a variety of other hardscape features, including pergolas, grill surrounds and water features. The right hardscaping company will provide you with high-quality workmanship and will be able to meet your specific needs.
Decks
A deck is a flat surface that supports weight, similar to a floor, and is typically constructed outdoors, often elevated from the ground. This is a popular feature for homes that don't have a lot of outdoor space or that are looking to maximize their backyard's potential for entertaining and recreation. Decks may be accessed by stairs or directly from a home's back door. They are also commonly complemented by railings to ensure safety.
Decks require a significant amount of labor to construct, and they can be costly depending on the type of materials used and installation expertise required. To help reduce costs, many hardscaping companies offer special discounts or promotions for first-time clients. These incentives can go a long way in establishing trust and credibility with prospects.
The term "hardscape" refers to all the permanent elements of a yard that don't consist of living plants. Pavers, rocks, wood, bricks, and concrete are all considered part of the hardscaping process. Having these hardscape features in place helps prevent soft, muddy soil that degrades the landscape. They are also beneficial for managing water and erosion. Moreover, they add value to the property by increasing a home's resale potential. In addition, they protect organic components from harsh sunlight that can cause them to wilt and die. A hardscaped yard also improves privacy by obscuring views of areas that are not intended to be seen.
Pergolas
A pergola is an attractive way to add some shade to your backyard, and it can be built in a variety of styles. They can also be a great focal point for a garden area. They can be free-standing or tied into the back of your home, and they can be made from wood, stone, brick, pavers, or concrete.
The pandemic prompted many homeowners to rethink their outdoor living spaces. They started looking into installing outdoor kitchens, fire pits, water features, and other hardscape projects to create more sociable and functional areas for their families.
Hardscape landscaping can be a lucrative business if you know how to market your services effectively. By using digital marketing techniques, you can attract and convert prospects into clients. Creating high-quality content and posting regularly on social media can increase your visibility online, improve search engine optimization (SEO), and drive traffic to your website. You can also use lead generation strategies to build a list of qualified prospects and nurture them until they become paying customers. For example, offering a free consultation or eBook in exchange for an email address can help you generate leads and grow your business.
Water Features
Water features are an important component of many hardscaping projects. These include fountains, pools, ponds, artificial streams and waterfalls. These can be used for aesthetic, recreational or acoustic purposes. They can also serve as a part of biophilic design, which attempts to connect people with nature through visual and sensory interaction. In addition, water features can increase humidity in dry regions and improve air quality.
Many homeowners choose to hire hardscaping services because of their expertise in installing these structures. These projects are time-consuming and require a lot of labor, so they are best done in the spring or fall when weather conditions are favorable. Additionally, hiring a professional landscaping company ensures that the project will be completed properly and in a timely manner.
Another benefit of hardscaping is that it reduces the amount of time needed to maintain a landscape. Unlike grass and other organic elements, bricks and stones do not need regular watering. As a result, they can save homeowners a significant amount of money on monthly water bills. In addition, hardscapes can also help to reduce waste by utilizing rainwater and recycling it for irrigation. They can even provide a habitat for wildlife, making them an excellent option for eco-friendly property owners.